How We Got There
MapStory's investors and stakeholders wanted to see quick demonstrated progress, despite a desire not to be involved in the discovery process. Balancing a long wish list of features with quick, iterative deliveries of work presented a challenge throughout the course of the project.
As the first and only designer on the project, I provided a structure and framework for producing and showcasing design work ahead of development, which gave the team a clear understanding of what we needed to be built, which in turn helped us to hit project benchmarks on time. To align the development team, product owner, investors, and stakeholders, I shared user insights, key findings, drafts of the design, and progress reports along the way.
Once I secured buy-in across the board for a user-centered design approach, I worked closely with the product owner and engineering teams to facilitate discussion and concretely define milestones so we'd have checkpoints and iterative progress toward the overall vision to share with investors and stakeholders along the way.
Few competitors in web-based mapping tools have features that need to be accommodated in a user-friendly interface such as MapStory does. Though competitors do present interesting interfaces to consider for styling and editing geospatial data, none help users produce a playable map that displays change over time. I needed to find interesting user experiences—both successful and unsuccessful—to draw inspiration for MapStory's Composer redesign.
I turned to video production and editing software, online video communities, sound engineering software, and other applications with a temporal focus, especially ones that provided granular control and non-linear workflows.
To ensure the organization and workflow provided by the new interface made sense, I produced low-fidelity wireframes to discuss in detail with the development team and product owner.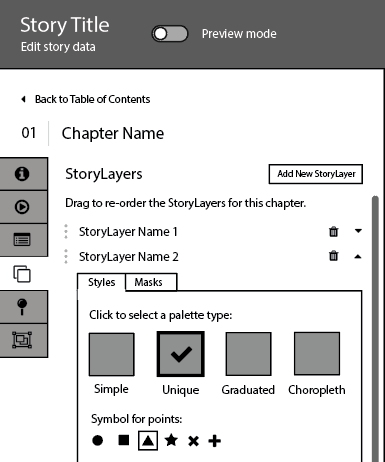 Facilitating these discussions helped me uncover the hidden features of Composer that were difficult to discover by clicking through the interface. By outlining the current feature set with developers and identifying feature sets where they lacked experience or understanding of intent, I created a shared understanding on the team of our blind spots and areas of Composer that were especially hard to understand or use. Throughout Composer we discovered features that didn't function the way the team thought they did, or didn't match the product owner's intent—often the unintended result of half-finished features due to rotating team members or sudden lack of funding.
After revisions and additional review, the team felt satisfied with the interface and feature set the wireframes communicated. From there, I created high-fidelity versions of the wireframes to explore color, typefaces, and things like hover, active, and error states for interactive elements.
I created clickable prototypes and scheduled informal group review sessions with the Content Team—our group of super users—and walked them through my vision for the redesign. I focused discussion on areas of the design where:
I had made assumptions about what users would prefer.
The team had questions about whether an easier or existing solution would suffice.
We thought we might not meet users' expectations, or further explanation and contextual help was needed.
Where we wanted to validate that the design met the needs of all the personas we defined.
The Content Team also helped guide the team where we felt unqualified to make a decision without user input—things like choosing sensible default settings, or where "apply to all" checkboxes would be useful.
While working on the high-fidelity prototypes, I also built and maintained a style guide that would serve as a skeleton for writing CSS. The style guide also helped in discussions with developers about which elements of Composer would be useful to abstract into reusable Angular components to minimize development effort once underway.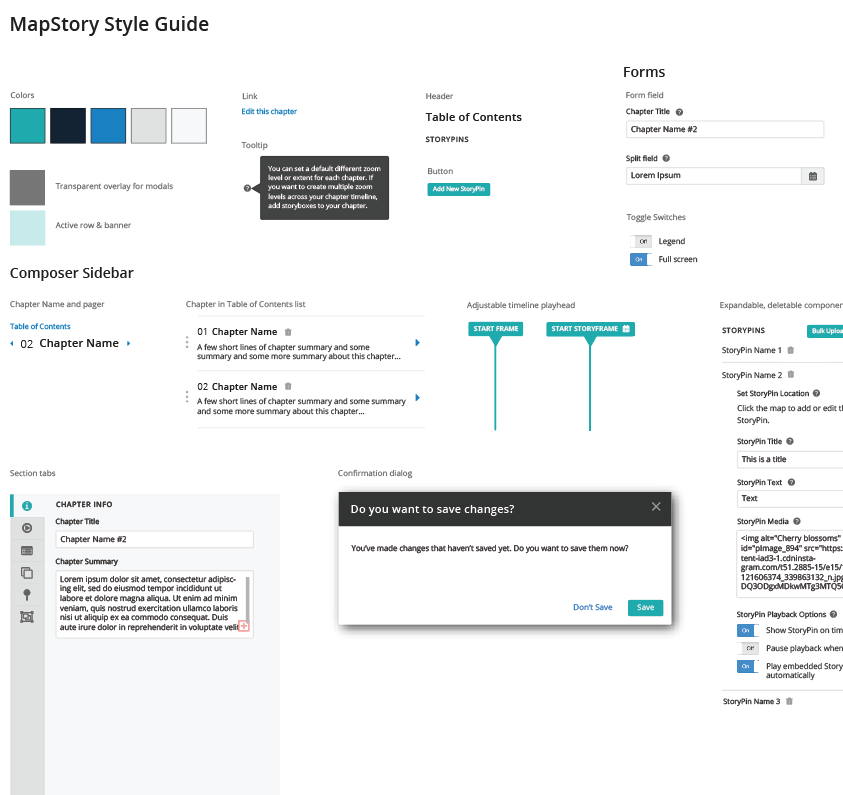 With high-fidelity mock-ups and clickable prototypes validated with users, I led final discussions with the development team and product owner to zero in on areas of the design that would require a high level of effort. To maintain budget and timelines, we created simpler yet elegant alternatives to more ambitious features that could be iterated on in the future.
We created milestones and granular development stories to represent the scope of the first release, the order in which the work must be done, and iterations and touch points along the way. Once defined, I made final revisions to the designs to represent precisely what the team had committed to so that features depicted in mock-ups didn't show future iterations or implementations not detailed by the stories we had written.